A new art installation by Portland artist Maria Regine continues Portland Streetcar's Art on Board program, showcasing talented local creators on a rolling canvas through the central city. The vehicle wrap joins a previous installation by Edmund Holmes last October.
Art on Board is a new program to showcase local artists' work in public as the vehicles serve riders around Portland's core. Prior to the program's creation in 2020, the only prior vehicle wrap was a partnership with the Portland Trail Blazers to commemorate the team's 50th season.
Maria Regine's work can be found on her website and Instagram.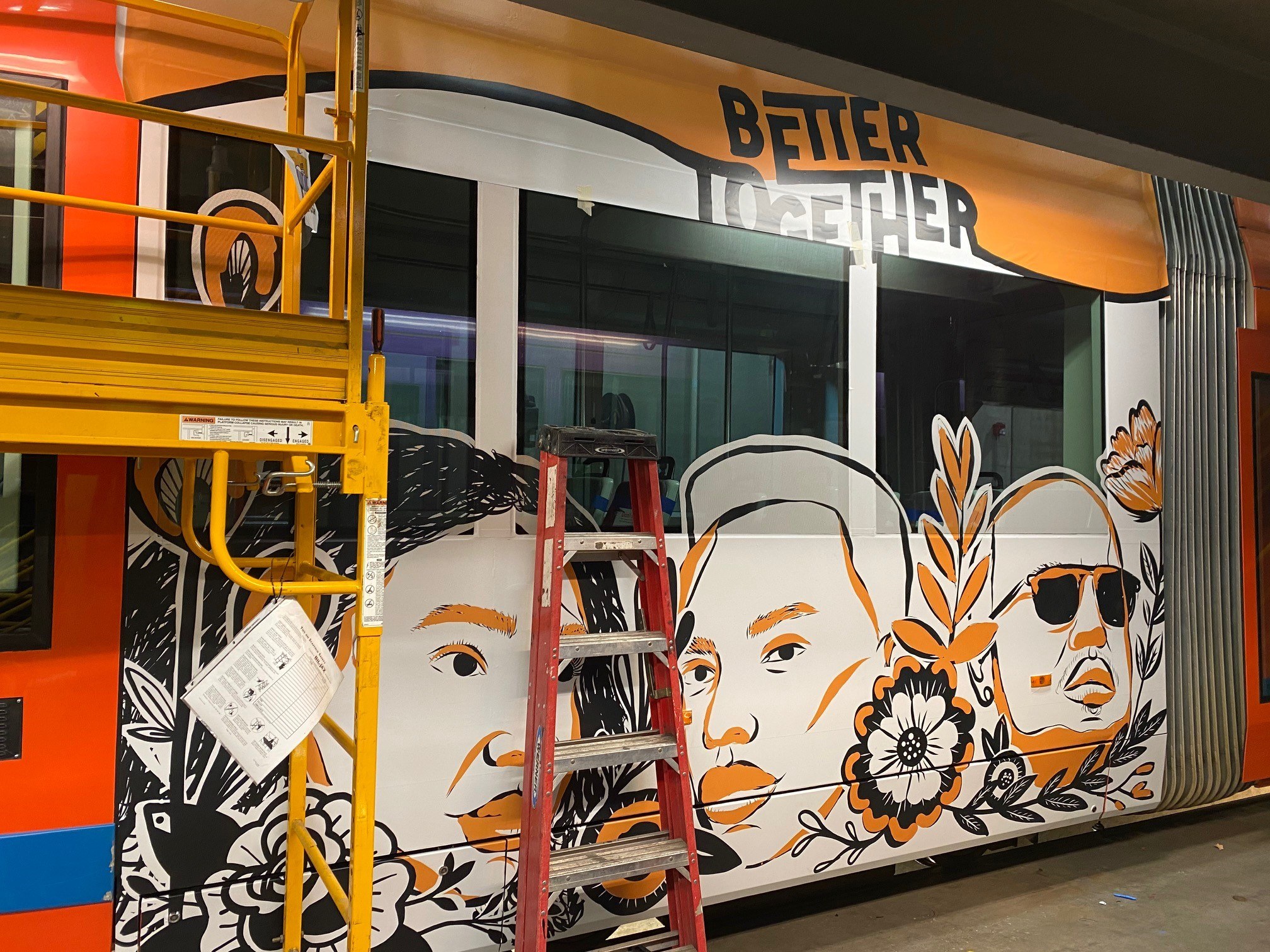 Artist biography:
Born in the Philippines and raised in Hawai'i Maria is a multidisciplinary individual. A maker and lover of all things art + design equipped with technical knowledge and skills.
Maria is an advocate for underserved and underprivileged communities. One of Maria's goals is to help create more equity for these communities. Particularly in the design and tech industries. Maria's educational background is in marketing & management as well as interface design. Her previous experience include working at tech companies like Apple and Treehouse.
At her time at Apple she has worked on people operations, customer relationship management, and market recruiting. While at Treehouse Maria worked in operations supporting their former apprenticeship program. The program's mission was to help diversify the tech industry using an apprenticeship framework that eventually placed individuals from underserved communities into high paying technical roles in companies such as Verizon, MailChimp, Vacasa, Toast, Nike, HubSpot, and more.
While working in the tech industry Maria has collaborated on many creative projects. From from print work with non-profit organizations like the Women's Foundation of Oregon to digital illustrations and designs for Soulection.
Artist statement:
"I moved from Hawai'i to Portland to "pursue my art" and at the time I didn't exactly have a clear picture of what that would actually look at. I knew that I wanted to share my creations and experiences with others in hopes that it would resonate. It was a bit of a struggle and adjustment at first getting my footing. I didn't know what a difference it would make going from an environment that is nothing short of a melting pot of cultures to a city where I am officially considered a minority. Art helped, and even more so, the community that I found helped me tremendously in so many ways. Without my people, my friends, I don't know where I'd be now. I don't think I would've had the courage to pursue my art as hard as I have without their support. The portraits and art I illustrated for this project is a huge thank you to some of the people that have inspired me in my course of being here. They've shown me the importance of community and that we are stronger and better together."