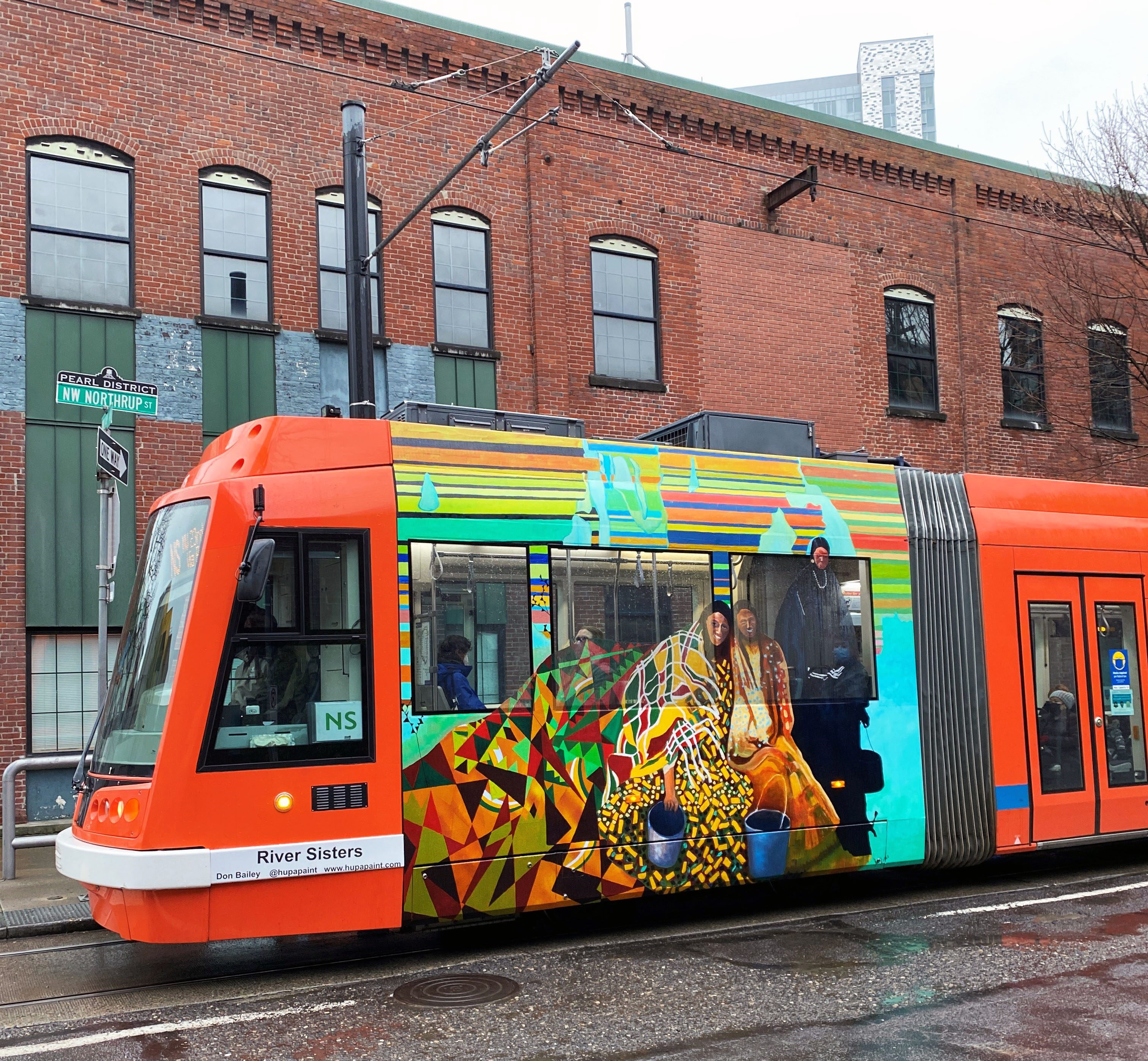 Portland Streetcar's Art on Board program continues with a new installation this week, "River Sisters" by local artist Don Bailey. Art on Board began in late 2020 as a way to provide a rolling canvas to Portland artists on streetcar vehicles.
Artist's Statement:
"The painting is based on a 19th century black and white photograph of three women filling their water buckets by a river. Beginning with the images of those women, I created an original, colorful, abstracted landscape and clothing for the younger two women, while keeping the third woman in the clothing of the original photograph. The fanciful, tapestry-like imagery and the love the women convey as they work in the shadow of both the river and their ancestor are intended to connect viewers to their home of origin and emphasize the role women play in giving sustenance to their family, nourishing their communities, and maintaining connections to their heritage."
About Don Bailey, in his own words:
In my native Hoopa language, kiwhliw means "he who paints." First and foremost, I am a painter. I create complex, richly colorful compositions. I am also Native American, raised on the Hoopa Valley Reservation in Northern California.
As a young child I began drawing the stories I could see in my Hoopa Valley landscape and those told to me by my elders. When my family moved off the reservation and I first attended the white man's school, I started to hear a new set of stories called American history. As a young man, I was drawn to a new set of stories that seemingly had no connection to my own – the stories told in the paintings of Vincent Van Gogh, Henri Matisse, Francis Bacon and Jackson Pollock.
I began painting and found in the process a way to weave together the stories of my homeland, the history others tell about my people, and the mystery I find in the work of artists who came before me. I often begin with an archival photograph. I layer in images of traditional native design and landscapes real and imagined. In doing so, I tell stories that shake up (mis)understandings of (indian) art and history.