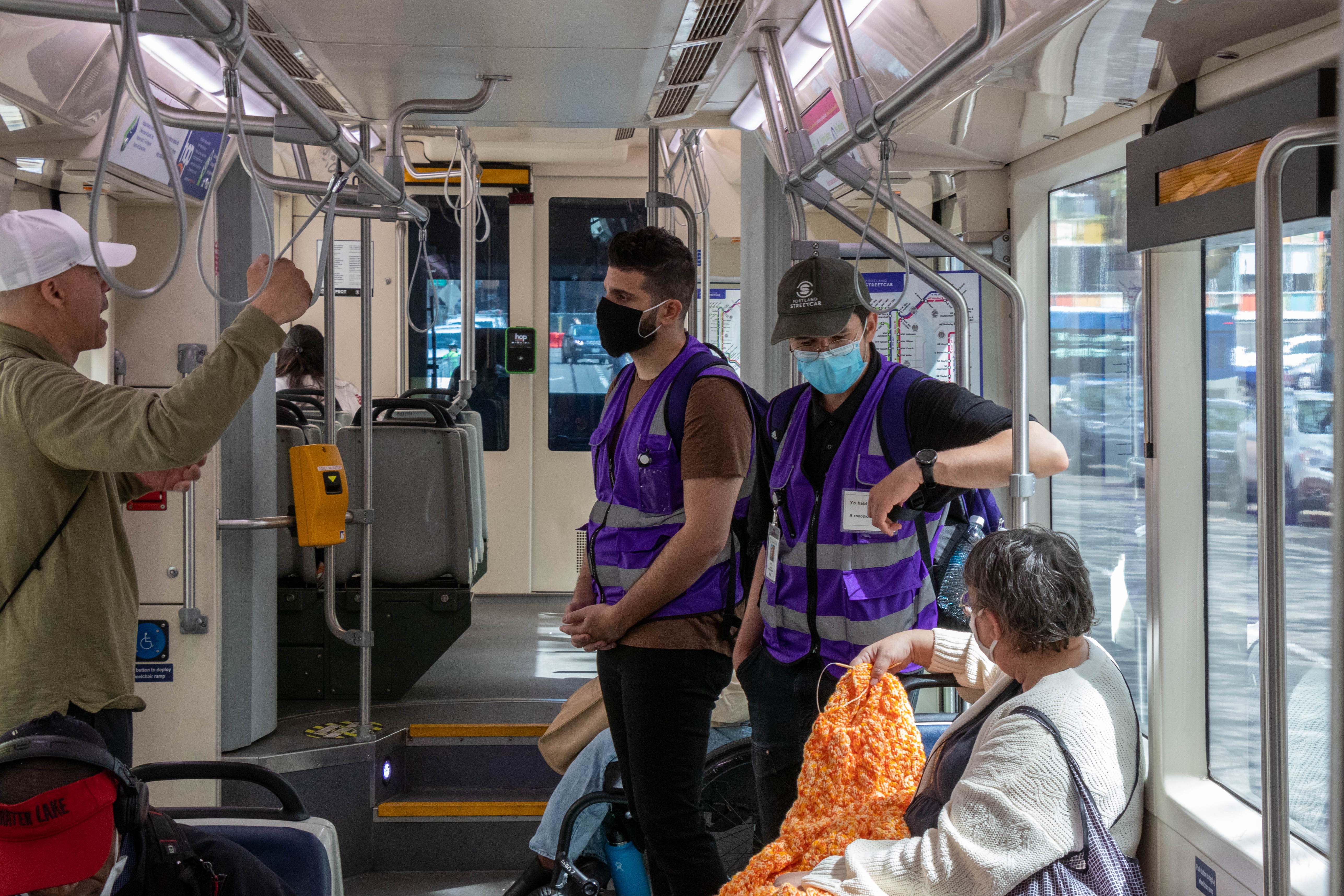 Portland Streetcar was awarded an Alice Award by The Street Trust Saturday evening for its innovative Rider Ambassador program. Shared with community partners at OPAL, the award recognizes the program's community outreach approach to riders experiencing homelessness or living with mental illness or addiction.

"We're encouraged that our team is being recognized for taking a different approach," said Dan Bower, Executive Director of Portland Streetcar, Inc. "Instead of having security guards throwing people off a streetcar, we've worked hard to find a way that helps all riders maintain a safe, pleasant experience while serving some of our community's most vulnerable people."
Started in early 2022, the Rider Ambassador program provides a non-security presence onboard the streetcar working with more vulnerable riders to provide helpful items and connect them with social services. Rider Ambassadors carry backpacks containing bottled water, snack bars, dry socks, hygiene products, first aid kits, naloxone and other useful gear depending on weather and conditions.
Rider Ambassadors are trained in first aid, mental health first aid and other applicable disciplines as gaps are identified. The program comprises a team of six who work in pairs to ride the streetcar. Funded by a Federal Transit Administration demonstration and research grant for one year, the program is currently being evaluated for ongoing funding and potential expansion.
"We are a completely new approach to community safety on public transit, and approach that focuses on and prioritizes the needs of people first," Rider Ambassador Josh Laurente told the crowd as he accepted the award. "When we go to work, we're not armed with anything else than a backpack full of water, snacks, supplies and knowledge of the supportive services and resources available to people in our city, a helping hand and a desire to just be there for other people."
Portland Streetcar began service in 2001 through Portland's central city and runs on 100% renewable electricity. The system serves thousands of riders per day with accessible, frequent transit.
The Street Trust is a nonprofit organization that advocates for multimodal transportation options that prioritize safety, accessibility, equity, and climate justice in the Portland Metro Region.
Categories: