The 9th Annual Portland Streetcar Mobile Music Fest will be held on Sunday, July 22nd.
Beginning at 1:00pm, every A Loop Streetcar beginning at the Portland State University Plaza will have live music from local artists on board. For the price of your Streetcar fare you can enjoy performances from returning favorites and new acts.
This year we are calling on local artists in the community for assistance with our first ever Mobile Music Fest T-Shirt Contest! Submit your entry for a chance to have your design chosen as the official t-shirt for the 2018 Portland Streetcar Mobile Music Fest.
Below are the rules and guidelines:
1. All submissions must be received by June 6th at 5pm.
2. A hard copy of each entry should submitted to the Portland Streetcar Customer Service Office at 1031 NW 11th Avenue. A jpg of the artwork should also be submitted to info@portlandstreetcar.org for posting and online voting.
3. Entries will be available for viewing/voting during the First Thursday event at the Portland Streetcar Customer Service Office on June 7th.
3. By submitting an entry, contestants agree to allow Portland Streetcar to have intellectual property rights over the image and to adjust the submission in any way necessary for screen-printing.
4. We will only accept digital entries in three colors. We prefer final art to be vectored, color separated and in either .ai or .eps formats with PMS colors defined and noted for accuracy.

5. Each artist must acknowledge that each entry design is: (a) wholly original; (b) does not incorporate or include any material that would require the consent of any third party; and (c) does not violate any copyright, trademark, publicity right, privacy right, or any other right of any third party.
4. Please use adequate judgment in your designs. Any submissions deemed to have inappropriate material will be removed from the contest.
5. All submissions deemed appropriate will be on display and available for the public to vote on from June 7 – June 15. The final decision on design will be made by Portland Streetcar, Inc.
The winning artist will receive two tickets to a production in the Armory's 2018/2019 season and a $100 gift certificate to Paragon Restaurant.

Please contact us at info@portlandstreetcar.org with any questions.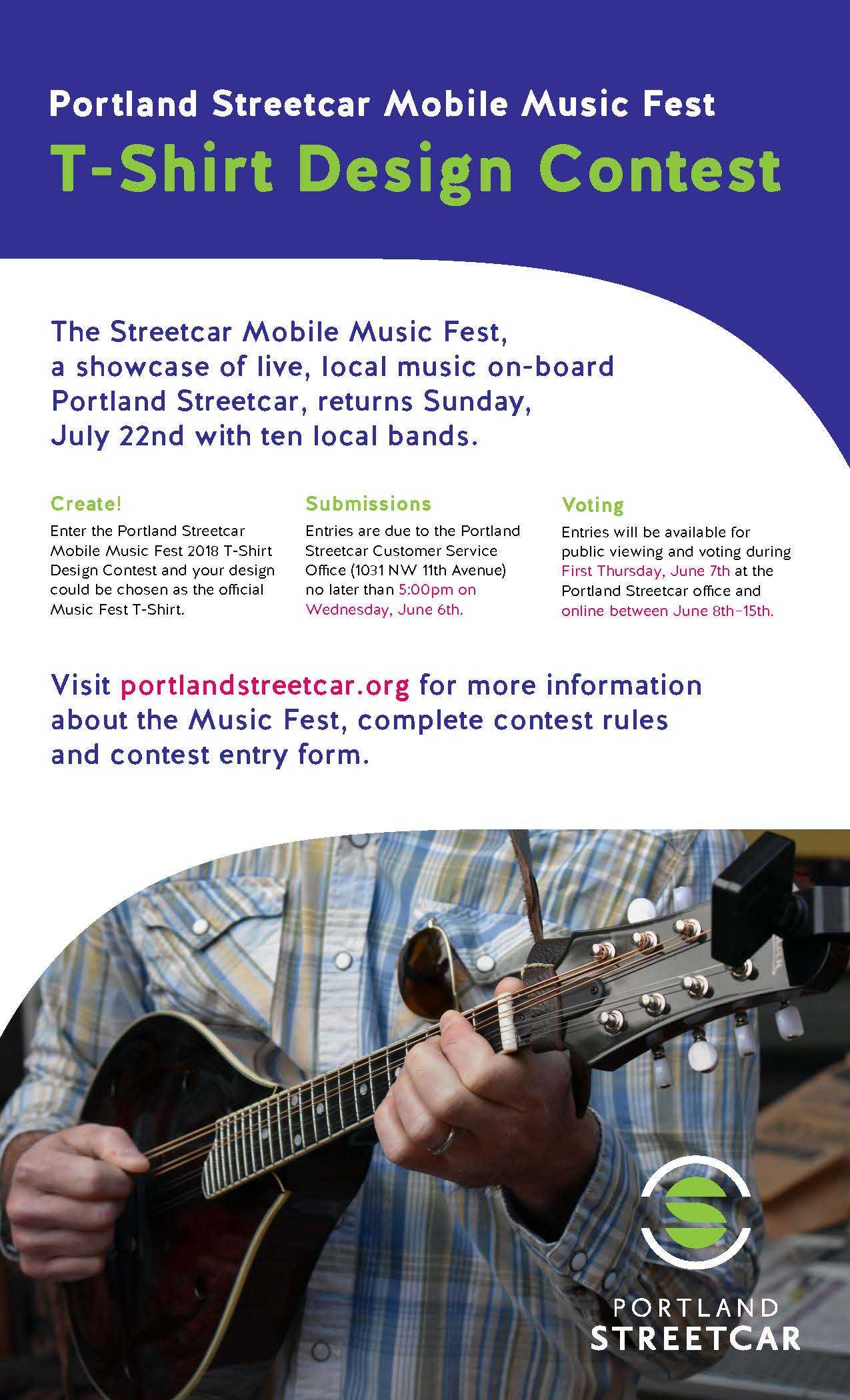 The Streetcar Mobile Music Fest is an annual event that brings local musicians live on the Streetcar. For the price of a regular Streetcar fare, riders can enjoy some of Portland's most exciting artists performing while traversing the central city. This year's fest will be Sunday, July 22, in conjunction with the Green Loop Sunday Parkways.
Categories: